My biggest dilema of the day: do I look like a chauffeur or a sailor? When I bought this hat I thought of two things: J.Lo, with her I'm still, I'm still Jenny from the block thingy and a luxurious limo's chauffeur. But it seems that my message was somewhere lost on the way, as everybody said that I look like a...sailor. Mabye I should have worn a-not-so-stripped -blouse or I should have owned a real driver licence because it seems that no one believed me.
Not good, Iulia, not good.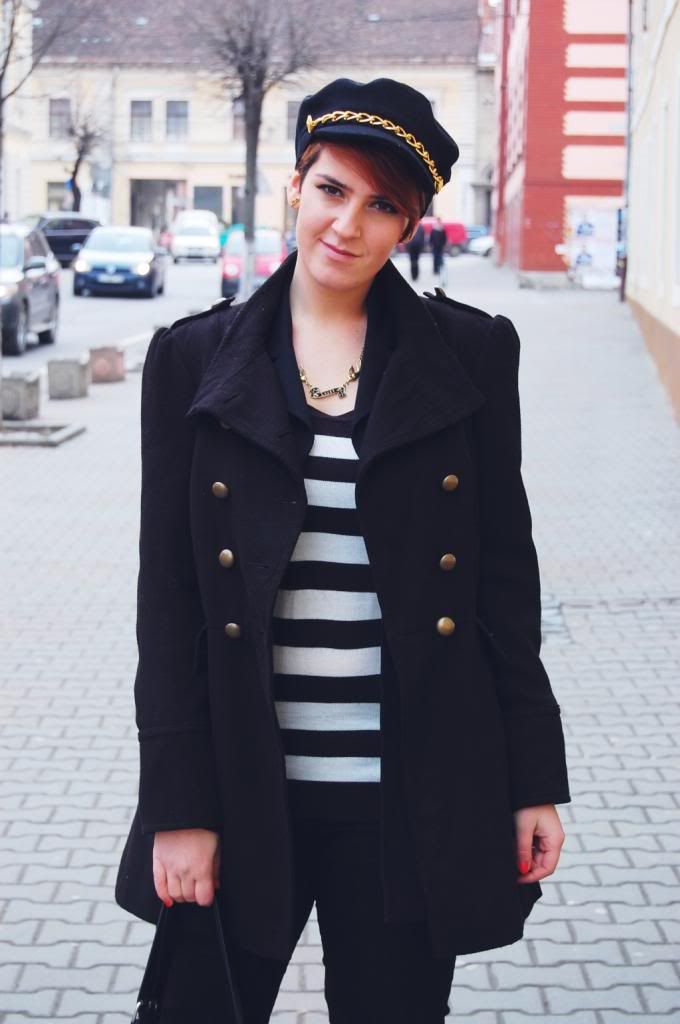 Adjudecat! Sunt maestră în luat decizii dubioase. Acum două zile am mers cu Cătă să discutăm nişte afaceri despre emisiune şi am ajuns evideeeent, într-un magazin second-hand. În timp ce ne pregăteam discursul pentru vânzătoare (tot în legătură cu o surpriză pentru emisiunea de sâmbătă), am văzut basca asta. MINI HEART ATTACK for sure.
Mi-am dorit de muuultă vreme să găsesc un astfel de accesoriu şi evident că mi-am dat ultimii bani pe el. Când am ajuns acasă eram prea obosită să-i zic mamei că am rămas fără bani şi uite cum mi-am petrecut eu ziua de ieri fără un lei în portmoneu dar cu basca în cap. Aş apela la clişeul din Sex in the City cu "somehow I felt it fed me more" daaaaaaar, nu a stat întocmai aşa treaba:)). În orice caz, sunt destul de nebună încât să sacrific nevoile mele de dragul hainelor. Până dau de ulcer. (*disclaimer* - cine mă cunoaşte în realitate ştie că sunt mai mari şansele să se termine lumea mâine decât să fac eu ulcer)
Yours truly, Julls ♥